General Information Page
Note: This page is set in and is best viewed with Poor Richard Font.

Name: Wulfgar Amut Nystori, He is also called Nightwind by some because that is the translation of his Greek surname.
Age: 31
Life Span: Immortal, he stopped aging when he was 19 so will appear to be in his low 20s until the day he dies.
Race: Deluvian
Generation: 2nd
Nature: Wulfgar is guarded and cautious about whom he places his trust in. He is courageous, discreet (particularly about what he is and his powers) amiable and compassionate. He has a good but strange sense of humor. Wulfgar is celibate and committed to remaining that way. He has issues when it comes to intimacy. He has a strong constitution which reflects in his self-possessed and cool demeanor. He appreciates simplicity despite the complexity of his race. He is a little eccentric and his vernacular is somewhat odd. This fellow is quite intelligent but prefers to speak plainly. He thinks people who use an elaborate vocabulary are either vain, self-absorbed, or showing off, so if someone is trying to impress another with overly sophisticated phrases he might be caught scoffing at them quietly.
Secretive: There are things about Wulfgar that he is very secretive about. He keeps sacred one personal secret, and one dark secret.
Occupation: odd jobs, he also has a secret profession
Resources: He owns an office which he also lives in, in a back room. The building is made of stone and is very old. His home and office are in an old run down neighborhood in a large coastal city called Eros. The place is ancient and rather beat up but sturdy. He protects the place from being blown to smitherines with a telekinetic ward. He is not wealthy by any means but makes enough money to support himself and make himself content. He takes odd jobs out of this office along with those jobs which he does secretively. He also owns an old pick up truck. Above the door of his office is a wooden sign which reads; "Nightwind's Services ; Need a Job Done? Just Ask."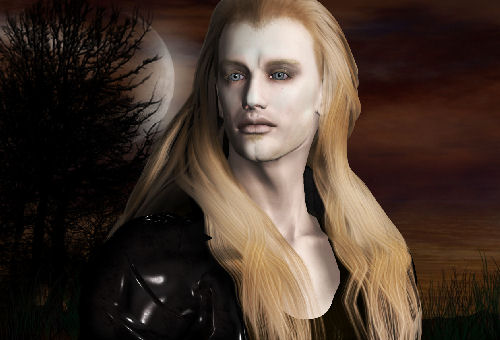 Description
Diminished Form: Wulfgar is mostly human in appearance with exception of one inch long claws which extend about half an inch beyond his fingertips. He has thick platinum blonde (flax) hair which is long and slightly wavy, which sweeps back somewhat from a pronounced widow's peak. His build is lean and youthful and of hard sinew. He has an attractive face and physique and light grey eyes like quicksilver. His face is fairly long and thin and he is extremely fair skinned, almost albino. His body is hairless and his skin is smooth. Wounds heal fairly quickly in this form. He carries a natural fragrance which is very pleasant and delicately sweet, but which is hard to define. His powerful blood shares a flavor in common with his scent. His human sides are Norse and Greek.
Deluvian Form: This is his true form and it is equipped with a pair of massive feathered wings and his claws lengthen in this embodiment. He also has Deluvian prowess in this form: his muscles gain mass to buff him up and he gains added strength when he shifts into this, his true form. His fortitude and regeneration also improve in this form.
Exsanguinated Forms: He can shift into various animal and humanoid forms.

Dietary Requirements
Blood Thirst: Some Deluvians crave blood and Wulfgar is no exception. Blood boosts his stamina but he does not rely on blood. A lack of blood over time does diminish his stamina and results in him tiring more quickly however.
Healthy Foods: he requires natural foods to maintain his health and loves nuts. He is susceptible to toxins, therefore if he ingests alcohol, too much caffeine, drugs, or smokes, it drains his strength and stamina and makes him very lethargic.
Sweet Tooth: Wulfgar loves sweets, anything with chocolate in it in particular. Sweets do not compromise his health as long as the ingredients are natural, albeit most sugar is highly processed so makes him lethargic once the sugar rushes lapse. He does not care, he loves sweets.
Dietary Disadvantages: High processed foods, pesticide residue, and meat from animals that are not raised naturally (injected with all kind of hormones and other growth stimulants) make him feel like crap! His low tolerance to toxins is a Deluvian trait flaw. His weakness is pizza. Wulfgar loves pizza.
Coffee Lover: He loves fresh brewed coffee (with cream and sugar) but after the caffeine rush passes he is very tired and lethargic so he often drinks decaffeinated coffee when it is available so he can drink more of it (it still has a small amount of caffeine it). He prefers gourmet coffee either way and hates instant coffee.
High Metabolism: He burns calories quickly so is often hungry, which makes him a huge fan of food.
What is a Deluvian Exactly?
These fairly rare immortals are a product of chaotic evolution. Most people, mortal and immortal alike, are unaware that they even exist. When many immortal races mix together a Deluvian offspring can result which is born as a first generation Deluvian. First Generation Deluvians are always born as albinos with pink eyes but their eye color can, on very rare occasions vary, but they are always very light in pigment regardless. This variation is slightly more common in higher generations. Wulfgar has a rare eye color. In many cases, the races which spawn Deluvians cannot normally intermix, which is why this unusual genesis occurs when specific races do combine. They are the result of five or more different immortal races combining. Wulfgar's line; the line of Nystori, resulted from a combination of Angel, devil, fallen angel, vampire, demon, lycanthrope, dunai (a human race with a long life span) and Arcanon (only six Arcanon exist). Because the Arcanon Aeros Nystori sired Wulfgar's father as a first generation Deluvian son out of his Norse-vampire-demon-werewolf wife Vaeol, the line was named after him. Wulfgar's father Lucian was the son of Aeros.

Children born as Deluvians out of other races are first generation inasmuch as their conception is a revolutionary occurance in evolution which creates this race. All beings born as Deluvians share the same traits in common; but the arcane powers and elements which fuse with their immortal embodiments varies. These powers can be passed on to their children through their blood. The fact that Deluvians drink blood leads others to mistake them for vampires, but they are not vampires, for blood is not a dietary requirement for them. Drinking blood, whether to improve their stamina or because it is a habitual preference, is a choice. Wulf often drinks blood before going into battle or during battle.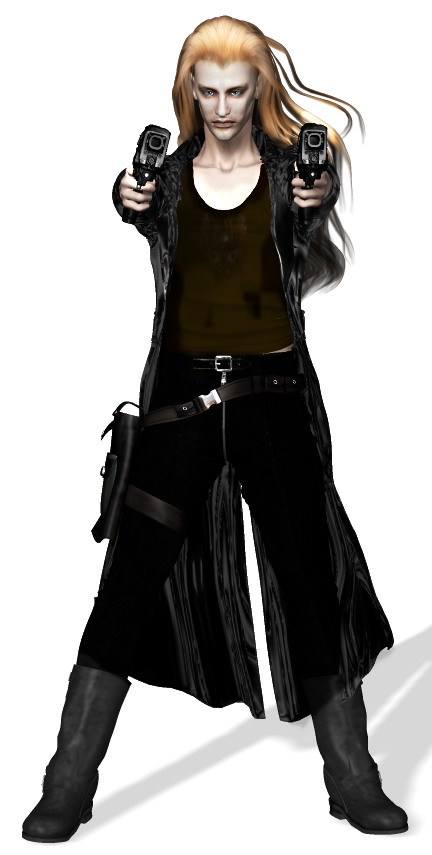 My RP Links
Other Characters